Openet's offices in Dublin offer a glimpse of what artificial intelligence (AI) betokens for the network operators of the future. Described by its developers as a fully automated "service capsule," the software can spin up an Internet of Things network service in just 29 minutes, they claim. In a traditional network environment, that process could take as long as 49 days.
The technology is not yet commercially available, but it illustrates the ambition of the Irish software company and the transformation now sweeping its corridors. "Skynet will eventually exist at the AI level and when it does, we will have enabled all of the capacity to spin up services and ultimately create the app store for an operator to deploy them," says Niall Norton, Openet's CEO, referencing the AI that triggered an end-of-days conflict between man and machines in the Terminator film franchise.
While any Openet-led upheaval seems likely to involve less carnage, Norton is bristling for a fight with his bigger software rivals and confident that Openet Telecom Ltd. has the weapons and the strategy to win. "We are not here to peacefully coexist with Oracle and Amdocs," he says during an interview with Light Reading in London. "With this technology, they are dinosaurs."
The Terminator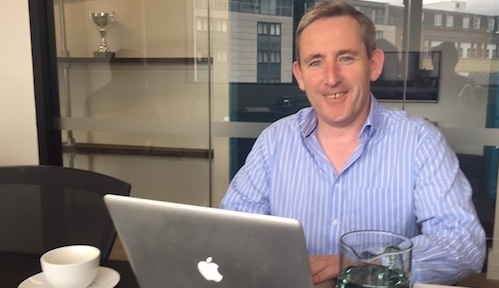 Niall Norton, Openet's CEO, does not envisage a future of peaceful coexistence with Amdocs.
Openet's boss might have the chest-thumping rhetoric of an aggressive startup or new entrant, but his company is no stranger to the IT crowd in telco-land. Founded in 1999, during telecom's Bronze Age, it has since carved out a position in the fast-evolving market for business support systems (BSS), with a penchant for real-time charging and processing. Privately owned, it currently generates about $100 million in annual revenues and has roughly 700 employees.
As Norton concedes, that makes Openet a pygmy next to Amdocs Ltd. (NYSE: DOX), which made $3.7 billion in sales and had about 25,000 employees on its books last year. But unlike others in the BSS jungle, Openet has survived. "We were a fit-looking pygmy," says Norton. "If you are getting chased by a lion, you don't have to be the fastest. You just have to be faster than the guy behind you."
Openet's roster of telco customers proves that it has occasionally been able to outrun the most fearsome lions. Its biggest customer remains US telco giant AT&T Inc. (NYSE: T), but it also serves a host of other Tier 1 players, including France's Orange (NYSE: FTE), Germany's Deutsche Telekom AG (NYSE: DT), Carlos Slim's América Móvil S.A. de C.V. and the UK's BT Group plc (NYSE: BT; London: BTA), to name but a few. Recently, it appears to have been highly active in the zero-rating game, helping operators to package Internet services with their tariffs, says James Crawshaw, a senior analyst with the Heavy Reading market research group.
So what has been the secret of its longevity? Openet's "agnosticism" partly explains it, says Norton. While all BSS vendors talk the talk on interoperability, Openet says it has been forced to walk the walk by its diminutive stature, ensuring its offerings are compatible with legacy systems sold by Ericsson AB(Nasdaq: ERIC), Oracle Corp. (Nasdaq: ORCL), Huawei Technologies Co. Ltd.and Amdocs, some of which it has teamed up with on projects. Openet's advocacy of open source also plays well with an operator community that believes a pivot away from proprietary products could reduce vendor "lock-in" and spur innovation.
"The key we could solve was not being dependent on a big stack, so the guys with old Nokia or Nortel gear could keep it alive instead of taking the whole Ericsson bag of goodies," says Norton. "You could have four separate packet cores from four different vendors and manage it off one PCRF [policy and charging rules function], because we were agnostic."
It is not just about agnosticism, though. Openet also claims to be extremely price-competitive next to its bigger rivals. And while some executives shy away from attaching numbers to such claims, Norton is refreshingly forthcoming. "Some recent data suggests we're up to 80% cheaper for transformational charging deals," he says.
Read more on lightreading.com